About Us
At CN Aquatics, we provide a full range of service and maintenance for all makes and models of pools and spas. We cover the entire city of Ottawa and the Ottawa Valley. Our experience in the industry allows us to offer you a full range of services. From opening your pool in the spring to a complete installation of a pool, we can help you turn your backyard into an at home getaway. We carry a full line of above ground, on ground, In-ground vinyl and fiberglass pools, spas, as well as all the accessories that go with them.
We strive to provide customers with the best possible level of customer service and top quality products. From first contact to the final inspection, we pride ourselves on attention to detail and customer satisfaction. CN aquatics uses only the highest quality parts and materials from reputable manufacturers.
Not only can you get you pool with us, but we have developed a group of reliable tradesmen from electricians to landscapers for interlock that provide top notch service to our clients. This ensures a high level of finished product that we can stand behind.
CN Aquatics is fully registered and to protect our customers we carry complete insurance coverage both on the jobsite and on the roads.. All employees are covered under wsib to meet government requirements.
Memberships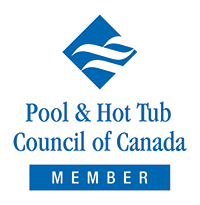 We are members of both the Association of Pool & Spa Professionals (APSP) and Pool & Hot Tub Council of Canada (PHTCC).
The Pool & Hot Tub Council of Canada is the leading national association in promoting awareness, education, and advancement of the aquatic leisure industry.
Association of Pool & Spa Professionals has been dedicated to the growth and development of its members' businesses and to promoting the enjoyment and safety of pools, spas and hot tubs to consumers.
The owner of the company performs all pool inspections and is certified to do so by the Pool and hot tub council of Canada, this way you can ensure that nothing is missed.