On-Ground Pools

On-ground pools differ from in-ground and above ground pools in that they can be submerged into the ground partially, fully or not at all. This offers options those looking for an above ground pool a very durable choice that will withstand Ontario's winters or those looking for the in-ground look, but want a cost effective option.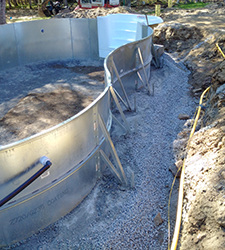 On-ground pools look and feel like in-ground pools for significantly less cost, but can in be installed in all types of sloped terrain. We can incorporate almost any in-ground option into an on-ground pool, such as stairs, lights, waterfalls etc. All the pools we offer have either a 48" or standard 52" wall that are made of 14 gauge galvanized steel. The quality of the wall and all fittings is on par with what is used with most In ground pools.
CN Aquatics uses a supplier that allows us to offer a wide range of shapes and sizes to our customers. All of our installations are done to or above industry standards to ensure the longevity of your pool. Depending on what type of installation you decide on we can offer either the standard compacted sand base or an optional finished concrete base. All our pools are finished off with a top of the line liner which comes with an excellent warranty.
From the initial design to the final installation, we are with you to ensure you and your family have a pool that you can enjoy for many summers to come.